Parts Identification - Dial Side
---
Click
here
to see Bridge Side Illustration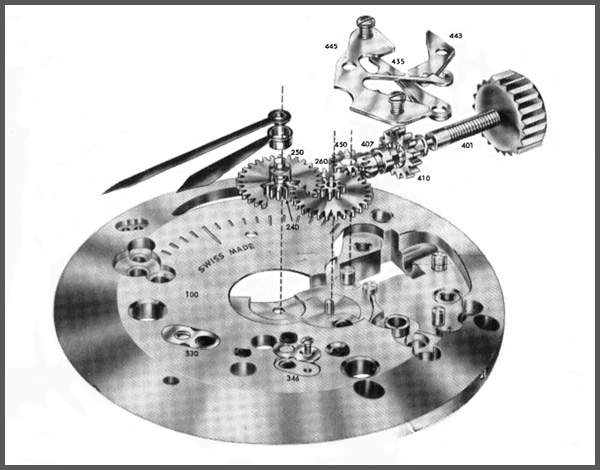 Legend:
---
100 - Plate
240 - Cannon Pinion
250 - Hour Wheel
260 - Minute Wheel
330 - Lower Cap Jewel w/endpiece for Balance Wheel
346 - Lower Cap Jewel w/endpiece for Escape Wheel.

407 - Clutch Wheel
410 - Winding Pinion
435 - Clutch Lever
443 - Set Lever
445 - Set Bridge
450 - Setting Wheel
401 - Winding Stem
For an individual screw part number, insert a 5 in front of the part number for which the screw fits. Example: Setting Lever Screw part number is: 5443.
Accurate descriptions will produce the best result. Consider the following when posting a request:

*Specify Height for - Cannon Pinions, Hour wheels, Sweep Second Wheels and other parts where there may be height variations.

*Specify pivot type (straight (S) or conical (C) [cap jeweled]) for pallet arbors and escape wheels, i.e., C/S, S/S, C/C, S/C.

*Specify upper pivot first (bridge side).

*For balance staffs, specify shock style if applicable, i.e. - Incabloc, KIF, etc.